University of North Texas Campus Sirens
---
Type of Siren: (3) Federal Signal EOWS (Siratone) 612's
Test Schedule
2 cycles of ATTACK on first Wednesday of month at noon (this is as a part of Denton's system)
2 cycles of Westmister Chimes every Friday at noon as campus noon bell
Location: as a triangle around UNT Campus
Activation: Radio. Federal Siratrol controllers.
The encoding method was two-tone-sequential, and voice was not used on this system.


NEW: as of 9/10/2002 these sirens have been removed. In their place are three T-128s that are part of the Denton City System.

---
I never got to record these sirens.
Byron Rieckman recorded the EOWS 612s near him and a good example is on the sound page.

---
Men's Gym Siren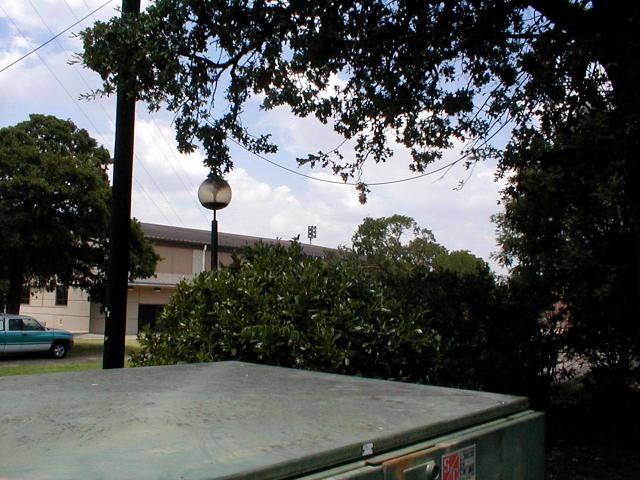 This is a far-away shot of Siren #1 on the UNT campus. This is the particular siren that would
tell me that I was late going home every Friday when I lived on campus.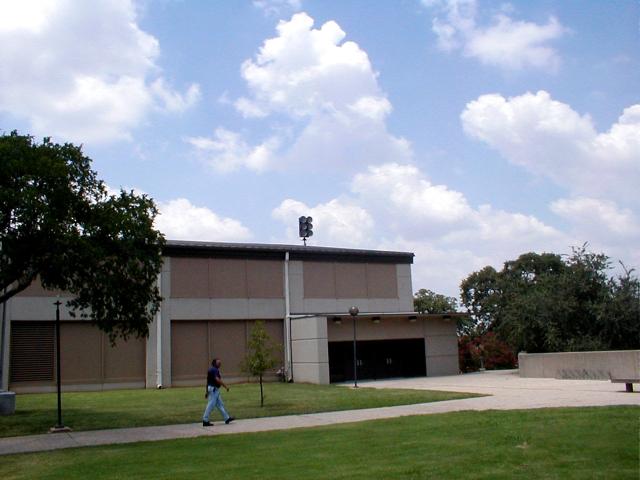 The siren is installed maybe 20 feet from the side of the Men's Gym.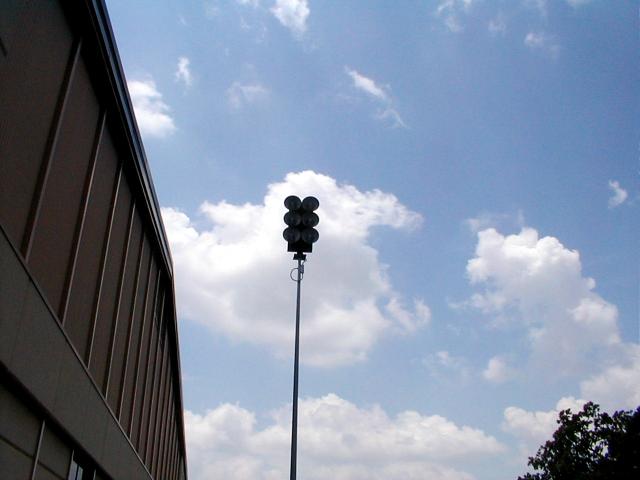 Now I am nice and close. It would hurt if the siren were sounding.
These sirens almost always come to a stop facing due east.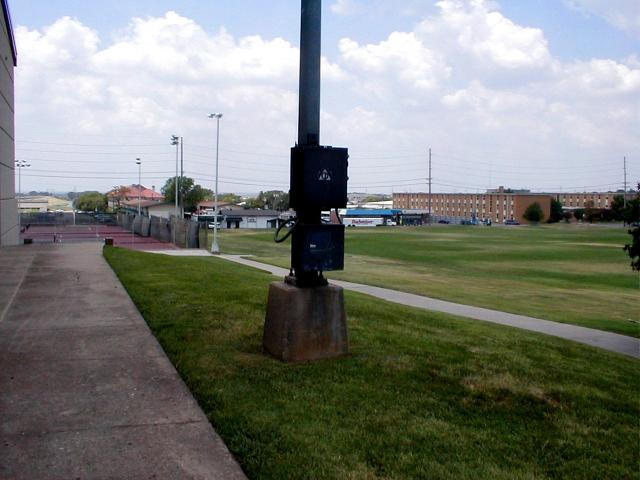 A good shot of the Siratrol and battery box. These sirens are voice-capable.
Note the gray-scale Civil Defense logo on the Siratrol box.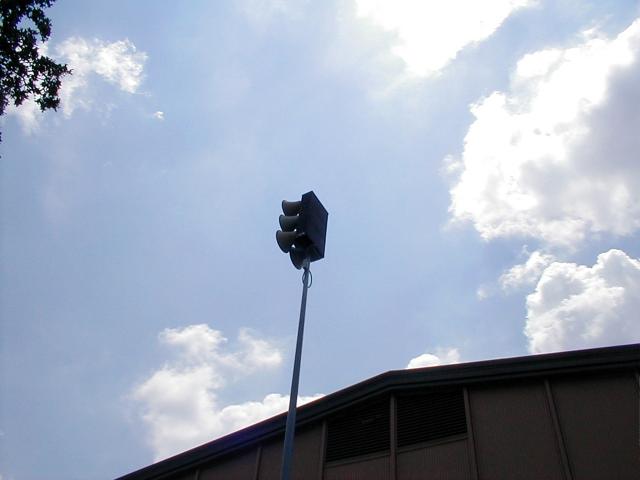 A shot from the side. The label on the bottom has a red FS and the words Federal Signal.
This is what lead me to discover Federal Signal on the web.
---
The Kendall Hall Siren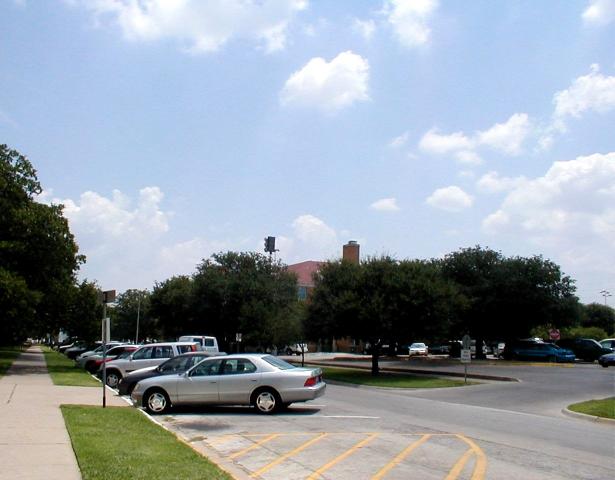 This is the Kendall Hall siren. I used to get an earful of extremely off-key "Westminster Chimes" walking back
from class. This is also the one I heard when there was actually a tornado warning on the last day of school one year.
---
The Physics Building Siren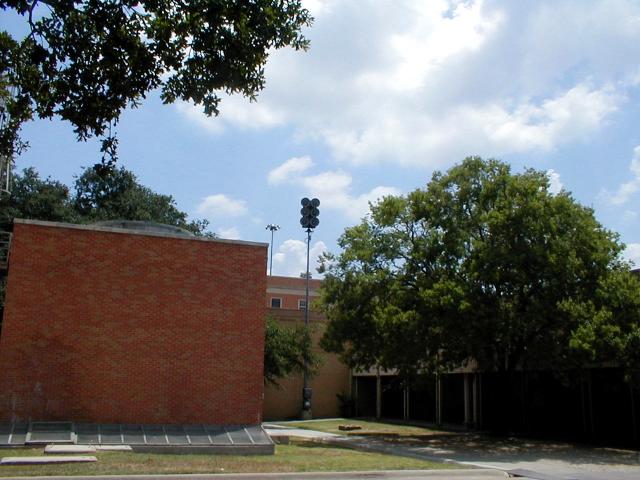 This one will kill your ears if you are nearby when it sounds due to the amplification from all the buildings
I found this out the hard way one fine day before I knew about the Friday tests.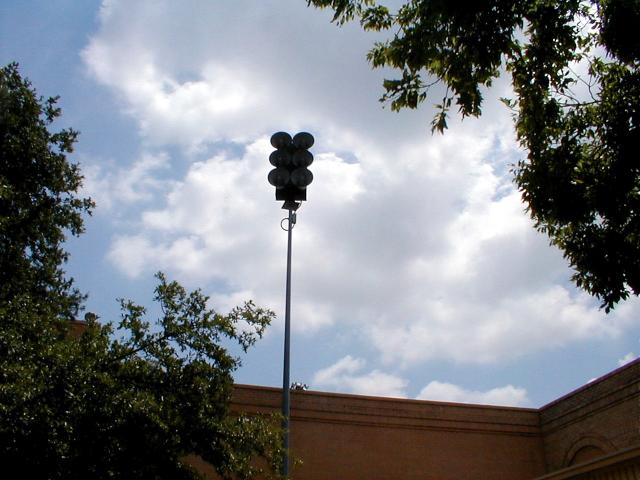 A little bit closer. No, the cable never gets snagged as the siren goes 'round.
Often this siren will gently rock in the gusts if its windy...
Once it fell down due to rusted anchors in the base.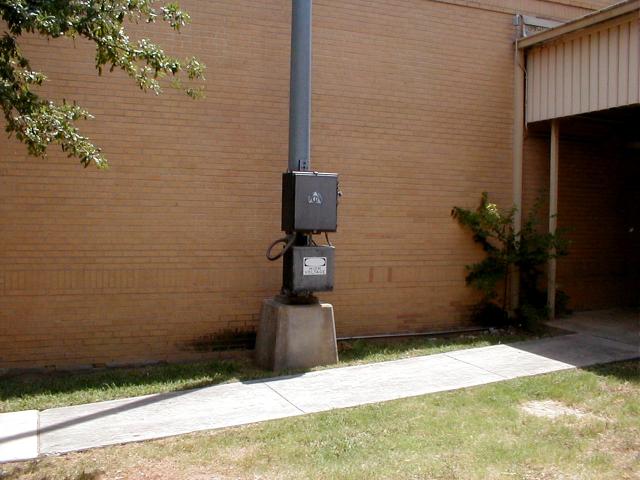 More control boxes. This receiver sometimes has trouble because of the buildings around it.
No, you don't want to go poking around inside that lower box. Its 48 volts of pure DC. Enough batteries to run the siren for 15 to 20 minutes even in a total black out.
Quite enough to knock you 20 feet. (hence the DANGER HIGH VOLTAGE stuck on the front) Don't you dare light that cigarette here.....
---