....So there I was, in Edgerton

I did notice the fallowing reference this siren.
1) What Yellow paint that is still visible on the bottom side of the horns appears to be the same Yellow that was used on other various sirens...i.e Thunderbolt, etc. etc. I believe its color is Federal Safety Yellow

2) The siren is out of service as there is no electric service connected to it. It is enclosed in a fenced off area with the water tower on city property so I could not get close enough to inspect the control box and its contents.
Storms where moving in when I took these pictures with my phone thus the dark appearance...I cleaned them up the best I could with the photo editor program that I use.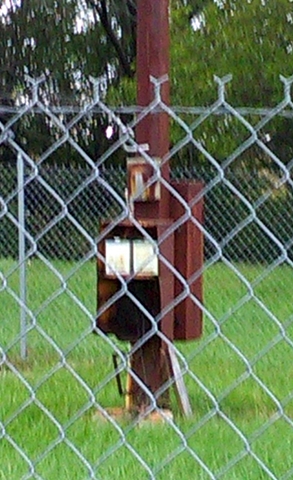 This open box faces to the South. It appears that the siren was vandalized at some point...at least what is at ground level. The door shows evidence of being pried open. From what I can tell , the White object(s) in the open box are quite possibly a back up battery or possibly batteries. Also visible above the open box is the electric breaker switch with no evidence of electric service to the input side. There is nothing in the bottom half of the box...possibly due to the floor rusting out and giving way.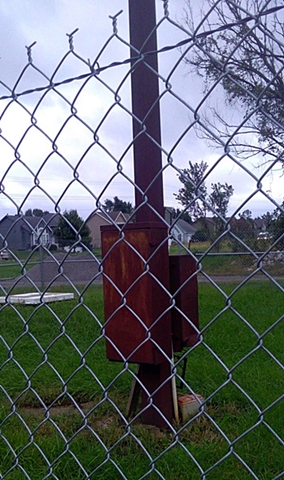 This is the view from the North West looking off to the South East. The White object at the base appears to be a power cell? or battery? .... looks very similar to what is still in the box and possibly fell to the ground as the floor of the box rusted away. B.T.W the rusting of metal underneath batteries is quite common...I see it all the time on old cars and trucks.
Hard to make out on this picture , but the underside of these horns still have the Yellow color as I described above.
_________________
I petition that everyone who joins the board should have to put there age or year of birth in thier signature...32 here
....54 for another year