Restoration of a Model 2T
This was my first real air raid siren
Disclaimer: This was my very first restoration ever, and I did it
much less thoroughly
than how I currently restore things, now years later. For an example of how I do things nowadays, please see my
Thunderbolt Pages
The Starting Point:
In March of 2000, I purchased my first real Cold-War air-raid siren, the Model 2T you see in the photo below. These shots of the siren are those taken by the person who sold it to me, just after its removal from a telephone pole in Connecticut. These are the "before" shots.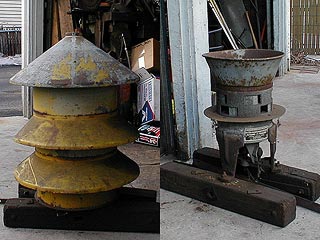 click to open larger version in a new window
Step 1:
Below left is a starting shot of the siren mechanism, as received. Below right is my first official restoration photo, showing the results of 3.5 hours of corrosion removal using a power drill with wire brush attachments. The upper intake cone is pretty heavily corroded, but it's condition is not critical to the siren's operation.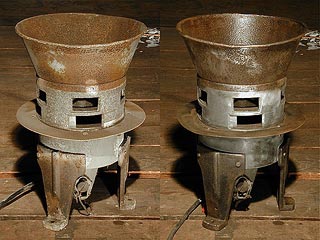 click to open larger version in a new window
Step 2:
Here is step 2, completed 3/19/2000. I finished removing the rust and aluminium oxides from the siren parts by scrubbing with various wire brushes for another 2 hours+ (left). Then, I used a double-cut bastard file on each stator port, to give them even and sharp edges. Last, I masked the aluminium parts and painted all of the steel parts with Rust-Oleum black "Hammered Metal" spray paint (right). This goes over corroded metal without primer, and gives a textured coating to hide imperfections.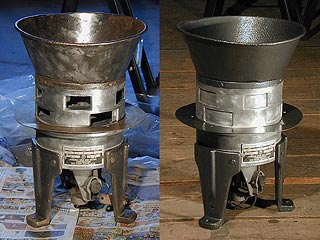 click to open larger version in a new window
Step 3:
After finishing the siren itself, I went to work on the housing. The housing was covered with orange paint (not CD yellow, for those wondering), which was well weather-beaten. I decided to remove all the paint and recoat it from scratch. I used a scraper and a power drill and wire brushes to remove the paint. It could have been done quicker with a Methylene Chloride paint remover spray, but that stuff is carcinogenic and I avoid it. I don't know what's in the orange paint itself (lead, cadmium?), but I wore a full respirator just in case.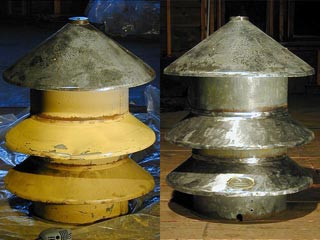 click to open larger version in a new window
Step 4:
Here is the final stage, the housing is painted on top with with 4 coats of white epoxy appliance enamel. The inside of the housing and underside of the cowls are painted with 2 coats of rust-preventing aluminum-tone hammered-metal finish paint. The siren mechanism, shown upside-down, is finished and rewired (details below with the next photo).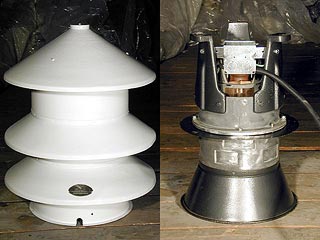 click to open larger version in a new window
Rewiring:
This last shot is a close up of the siren's underside, showing the junction box I added to cover the power connections. I also removed the cloth insulation from the siren's lead wires, and covered the remaining rubber-insulated wire core with heat-shrink tubing, then a sheath of 3/8" O.D. clear vinyl tubing. Project done!!!!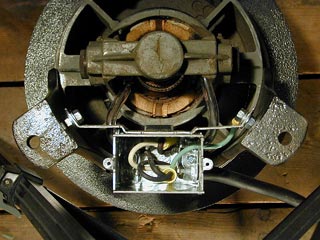 click to open larger version in a new window
Adam Smith ©2001